EASTON — As part of the latest update to Maryland's reopening plans, gyms — among other businesses — were allowed to reopen at 50 percent capacity at 5 p.m. Friday, June 19.
Many local gyms have reopened since then.
The Easton Family YMCA reopened Saturday, June 20, with limited hours. They close the gym down at points throughout the day for cleaning.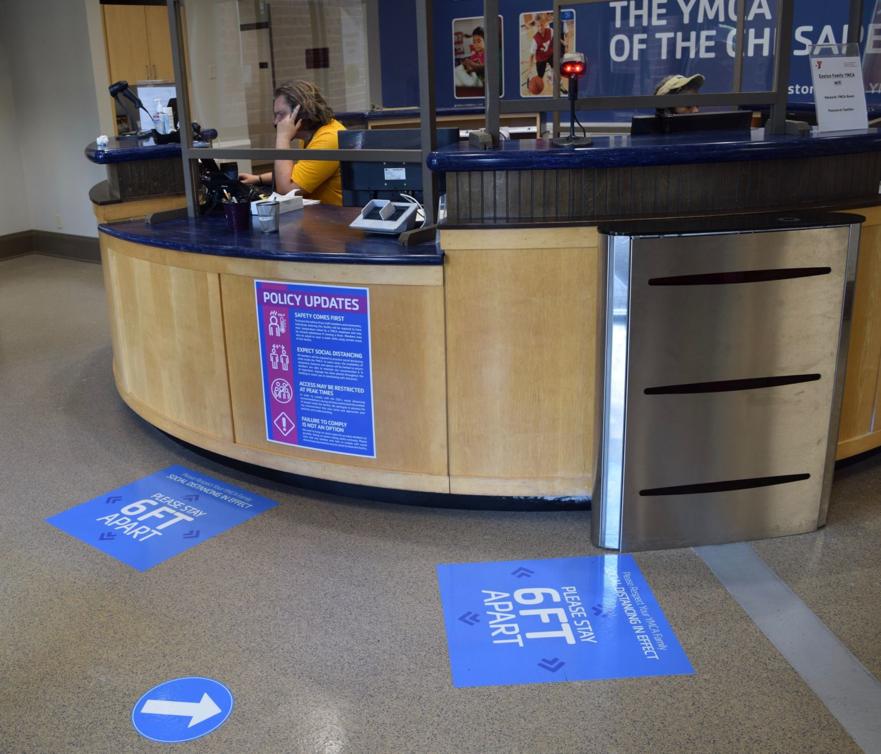 Staff members placed social distancing markings throughout the building, reminding people to stay six feet apart. Those markings include designating doors for entry and exit, two stairwells for going up and down and sides of the hallway for walking in either direction.
Easton Family YMCA Executive Director Derek White said the pandemic has forced the YMCA to approach normal processes thoughtfully. The YMCA of the Chesapeake — which has 10 locations around the Eastern Shore — had a team discussing and planning for reopening for over two months.
"It's requiring us to really process through everything, and to just think about the impact of the footprint of our facility, how people transition through hallways, how people transition through doors," White said. "That's been the biggest challenge is just trying to think strategically about the overall impact on the facility and how to keep people socially distant."
In addition to the social distancing reminders in the building, the YMCA is taking further precautions prior to entry to ensure staff and members are safe.
"We're temperature-checking everyone as they enter the facility," White said. "Anyone with a temperature over 100.4 is not allowed in. Anyone that shows symptoms, we ask them not to come in. We haven't had anyone with confirmed cases or had a temperature over 100.4, so we haven't had to experience that yet. Regular hand-washing — we're encouraging that."
The YMCA has offered classes outside since outdoor activities were reopened in early May, and White said those classes will continue. He said they've had a good amount of traffic at the facility since they reopened, but they haven't come close to reaching 50 percent capacity or having to send people away.
Hearthstone Health and Fitness reopened Friday at 5 p.m.. Manager Dan Greave said not many people came Friday or Monday, but they saw a little more of an influx on Tuesday, June 23, noting that people are still restoring their workout routines.
Greave said Hearthstone started preparing for reopening as soon as they closed down, spacing out equipment, stockpiling cleaning supplies and planning out further precautions. They offered online classes throughout the pandemic and outdoor classes when able to do so.
Like the YMCA, Hearthstone is checking temperatures and asking about symptoms for everyone prior to entry. They also implemented senior hours to accommodate seniors who face a higher risk if they contract COVID-19.
"Our whole approach has been proactive," Greave said. "We got creative when we had to. The circumstances stink, but it kind of forces you to evolve and grow as a staff and a business, so we've done a great job with that."
Some Hearthstone members have voiced annoyance over the way memberships were handled during the pandemic, suggesting they were still being charged while the gym was closed and had no way out of their contracts.
Greave said Hearthstone added the three months that the gym was closed onto the end of membership contracts, which members had the option to do. He said Hearthstone was clear with members about what they were doing with contracts.
"We reached out to all our membership," Greave said. "We were very upfront with them with sending out emails, post online, so we let them know. We communicated with everybody."
Easton Fit4Life, a private, appointment-only gym, also reopened Friday at 5 p.m. Owner Kibby Dalton said her gym didn't have to do much between the announcement that gyms could reopen and the gym actually reopening — she had the gym deep cleaned when she closed down, and has continued to do so as she reopened. The by-appointment nature of her gym means traffic won't be significant even normally, but she said some of her clients have been hesitant to come back since the gym reopened.
"A big majority of our clientele is baby boomers, and some towards the older end of the boomer generation. And we have half of them that are raring to go, they want to get back — and I'm talking in their 80s. And we have others who are somewhat younger, and they're the ones that are a little more apprehensive," Dalton said. "So it's interesting to see how this thing's kind of playing out and who's ready to go and who's not."
She said there's not much she can do to convince those who are uncertain about returning to the gym to come back. She said she's reminding those clients of how they're keeping the facility clean, but that other than that, it comes down to personal beliefs and feelings and she said she can't influence those.
"I can't say all the magic words, all the right words to make somebody go 'Okay, now I feel safe,'" Dalton said. "All we can do is just assure them that their well-being and health is important to us, and they already know that, anyway. And we've always been meticulous about cleaning."
White said he hasn't heard much concern from gym-goers, but recognizes some people are still apprehensive about returning to the gym. He emphasized how much work his staff put into readying the facility for use and the level of precaution they're taking.
He added that he's glad people will be able to have a social connection again through working out.
"I think the YMCA's primary concern in this is the health and wellness of people," White said. And that could mean physically being fit, but emotionally being healthy as well. People have ventured outside to get their exercise, but they're lacking a little bit of social connection. And that has been the most joyous part of this for us, is seeing the people that are coming back and being able to reunite with friends with social distancing involved in that. We just encourage people to continue to come back and stay healthy, physically and mentally."
Follow me on Twitter @SethTow. Follow us on Instagram @StarDem_Sports.