Editor's note: Anyone struggling with suicidal thoughts is urged to call the Maryland Crisis Hotline at 1-800-422-0009 or the National Suicide Prevention Hotline at 1-800-273-TALK (8255). Text a trained crisis counselor anytime by messaging 741-741.
Our journalists are continuing to investigate this story, which will be updated as new information becomes available.
CAMBRIDGE — State police are looking into allegations a grieving mother has made in a Facebook post that several troopers laughed at and live-streamed her son's predicament after his boat fell off its trailer about 2 p.m. Saturday, May 18, on U.S. Route 50 at an intersection in Cambridge.
Jane Bailey, in a Wednesday, May 29, Facebook post, said her son Chris Bailey committed suicide Sunday, May 26, and blames his death on the humiliation he suffered May 18 and online thereafter, as well as financial pressures after a series of bad luck, including the cost of getting the boat removed from the highway.
Maryland State Police, in a May 29 Facebook post, said a preliminary investigation, including information from an independent eyewitness, indicates the three troopers on the scene on May 18 were professional and did not make fun of or laugh at Chris Bailey.
"Earlier today, Maryland State Police command staff were made aware of a Facebook post by an Eastern Shore mother who tragically lost her son earlier this week. The post includes allegations of inappropriate actions by state troopers who were on the scene when her son's boat fell off its trailer onto Rt. 50 in Cambridge earlier this month," state police wrote. "An investigation into these allegations has been initiated by Lieutenant Timothy Corbin, commander of the Easton Barrack.
"The preliminary investigation indicates that three troopers were on the scene on May 18th. One made contact with Mr. Bailey and two directed traffic around the blocked lanes and had no contact with him," state police wrote. "The trooper investigating took pictures of the scene in the event a crash report needed to be filed. There is no evidence at this time that troopers posted these pictures or any videos to social media.
"An independent witness has indicated all troopers on the scene were professional and no one was making fun of or laughing at Mr. Bailey," state police wrote. "The boat was reportedly 26' long and full of water. There was an attempt by troopers and others on the scene to move the boat to try and get a tow strap under it, but that was impossible. It has been determined Mr. Bailey called the tow service, which was already en route to the scene when the first trooper arrived.
"The members of the Maryland State Police are committed to serving and protecting the citizens of our state. Accusations of conduct contrary to our core values, policies and tradition, are troubling and will be thoroughly investigated," state police wrote.
In a comment in response to that post, Jane Bailey wrote: "Ok all you defenders of msp...want to see the footage? I have it...oh but wait if I share here they can lawyer up.....I think I'll wait until they lie some more on public forum!"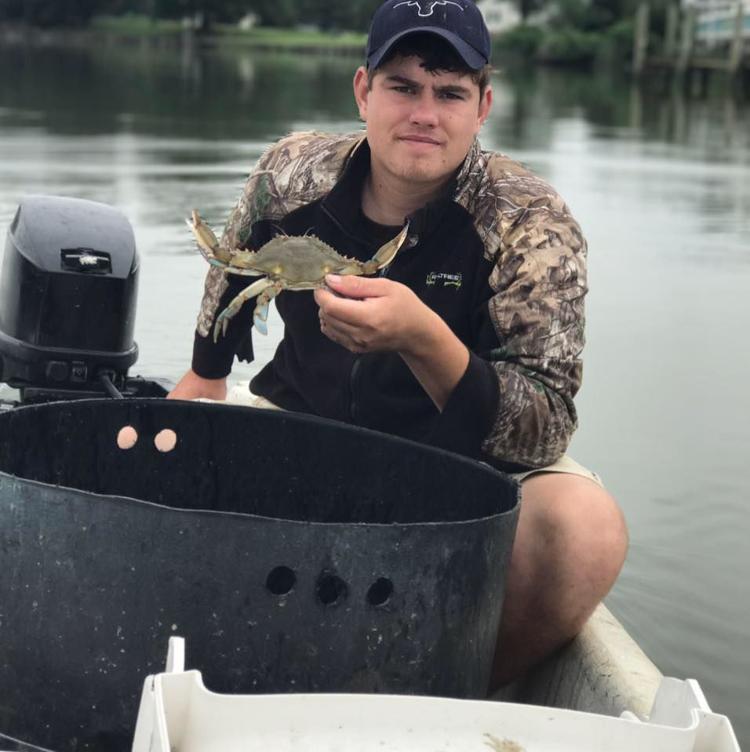 A mother's public grief
Bailiey, in her May 29 post, outlined what she says happened during the May 18 incident and asked the social media community to help her track down the names of the troopers involved. Bailey also asked for people to help her put pressure on the towing company to get the money Chris paid for its services refunded to the family to help pay for his funeral.
Bailey's post has received more than 5,700 comments and 12,000 shares and appears to have resulted in more than 2,000 comments on the towing firm's Facebook page and, according to its owner, threatening messages and the public sharing of the owner's home address.
In her post, Bailey said her "son's dream was to be a successful crabber."
After spending all winter fixing up a used boat and working three jobs to buy a new pickup truck in early May, Chris left home at 2 a.m. Saturday, May 18, "... the big first day," Bailey wrote. "(H)e spent ... hours baiting his lines the night before and planning his trip far south to the Dorchester Co area where the crabs are running. He left ... with a spring in his step and a smile on his face ...."
"After crabbing for a few hours and a bushel and a half on board, he started having engine trouble, so pulled his lines and limped his old boat back to the dock. Loaded his boat on the trailer and headed home with the weight of the world on his shoulders because he couldn't fill his crab orders — he was burdened with worry about the payment on the truck coming up, and he had spent every dime he had on the venture.
"He stopped at a stop light in Cambridge — and when he pulled forward on green, his boat w(i)nch and safety chain broke and his boat rolled off the trailer and into the middle of Route 50. All alone he struggled to try to move the boat to somehow w(i)nch it back up but it was too heavy.
"Four Maryland state troopers showed up. He asked them to give him a hand lifting it so he could get it out of the road. The(y) laughed at him," Bailey wrote. "The(y) surrounded him and pulled out their cell phones taking videos and laughing at him posting on Facebook live the redneck kid trying to lift a boat.
"They told him he had to call Bradshaw's Towing to lift the boat on the trailer. He followed their instructions and asked them to put their videos down — they did not and continued to laugh and pick at him," Bailey wrote. "The wrecker truck showed up and demanded $3,500 in full to lift the boat on the trailer. He told them all he didn't have any money, and if he could have an hour he could get 3 or 4 friends there to help him lift it.
"They gave him 15 mins to decide — pay (now reduced to $1,500 when they found out he didn't have insurance) immediately or they would impound and he would have to pay the $3,500 plus fines and fees and storage," Bailey wrote. "I was judging a goat show in Howard Co and saw my phone ring. When I answered he was sobbing — hot — tired — and beside himself, and asking me what to do. I could hear the troopers laughing at him in the background. I told him to put it on his credit card and get home and we would figure it out ...."
"In the week that followed, he had a series of bad luck things happen to include the motor was pronounced unrepairable, the skiff he used last year pull cord broke at the dock on Saturday, and his buyers all canceled their orders for Memorial (D)ay weekend because he couldn't produce them for Friday and Saturday," Bailey wrote. "There is more, more little things all bumps in the road, but to this young man it was a mountain.
"Last night I found out ... that (Chris) wept relaying the story of how the state troopers laughed and humiliated him and the wrecking company ... (charging him) $1,500. These are not (n)eurosurgeons folks — we are talking about 10 mins worth of work," Bailey wrote. "Gouging a distraught young man when he was up against the wall. I knew he was upset by it — but I had no idea how badly the video of humiliation hurt him, and that the wrecker company posted a photo on Facebook of him in the intersection with his boat, and how they took advantage of him.
"I want to know the names of all four troopers (I have obtained one) to arrange a meeting with their CO. I want them to hear the whole story of how my son hung himself Sunday morning — because of his perceived humiliation," Bailey wrote. "I want them to learn from seeing my distraught eyes — that a simple act of kindness to (a) kid who did nothing wrong could have changed the outcome. To learn that you never know what the Maryland citizen is going through when they are stuck in a bad situation on the road — through no fault of their own.
"Now as for Roy Bradshaw's Body shop and towing company in Cambridge MD .... What they did was no different (than) the contractors who rush to screw victims of hurricanes. I want his $1,500 back to pay for his funeral ...."
"The posted photo is my son s(t)anding in the middle of Rte 50 with his boat in the road — they posted it on Facebook for Advertising."
Towing firm responds
In a Wednesday afternoon Facebook post, the owner of Bradshaw's Towing expressed his condolences to the family and friends of Chris Bailey.
Roy Bradshaw also wrote that his firm gave Chris Bailey a 50 percent discount on the price he was quoted before a wrecker was sent to the scene and that Bailey had no complaint and said he was happy with the service.
"Our condolences go out to the family and friends of Chris Bailey. Mr. Bailey worked the water and was proud of his efforts as a Chesapeake Bay (w)aterman. His loss is one nobody would ever seek," Bradshaw wrote on the firm's Facebook page.
"It has come to my attention that our company and the Maryland State Police are being blamed for his loss. It is being said that I purposely price-gouged the young man and made threats toward him. Anyone who has known me for my fifty-four years on this earth, thirty-seven years in the repair and towing business, and nearly fifteen years as a business owner know this would never be true. No words I write can lessen this loss, but I do feel I must explain what occurred that day," Bradshaw wrote.
"On Saturday the 18th of May, Mr. Bailey contacted my company to assist in getting his boat, which had fallen from his trailer into a major intersection, out of the roadway and back onto his trailer. I explained that several options existed, including use of a rollback to pull the (boat) off the road surface — we would then get out of the road and place it back on the trailer," Bradshaw wrote. "Mr. Bailey declined that, and preferred use of a rotating wrecker to prevent any further damage to the boat. We explained that, for recoveries, we typically bill $1,500/Hour for that truck's services. This charge is reflective of the piece of equipment's price, its extremely high operating expenses, and the experience required of its operator. Mr. Bailey said he wanted that truck dispatched and would determine how to make payment. Police had made clear the intersection could not remain blocked.
"The truck arrived on scene with operator and a second technician. The truck was on scene for approximately two hours. Following the recovery and placement of the boat on the trailer, Mr. Bailey came to our physical location and made payment," Bradshaw wrote. "We charged a rate one-half of normal charges in an effort to be fair to the young man. We did this out of compassion with knowledge he would be forced to pay out of pocket.
"He at no times made any complaint as to service or price. Indeed, when I attempted to further explain the breakdown of charges, he said he was happy with everything. He made credit card payment and continued on to his destination," Bradshaw wrote.
"We regularly post photos and information related to services rendered, as an example of the abilities of our equipment and crews. We did not laugh at, nor did we fault Mr. Bailey," Bradshaw wrote. "After everything had occurred, we were under the impression we had provided an appreciated service to the young man.
"Again, my condolences to Mr. Bailey's family and friends. His loss is a terrible one."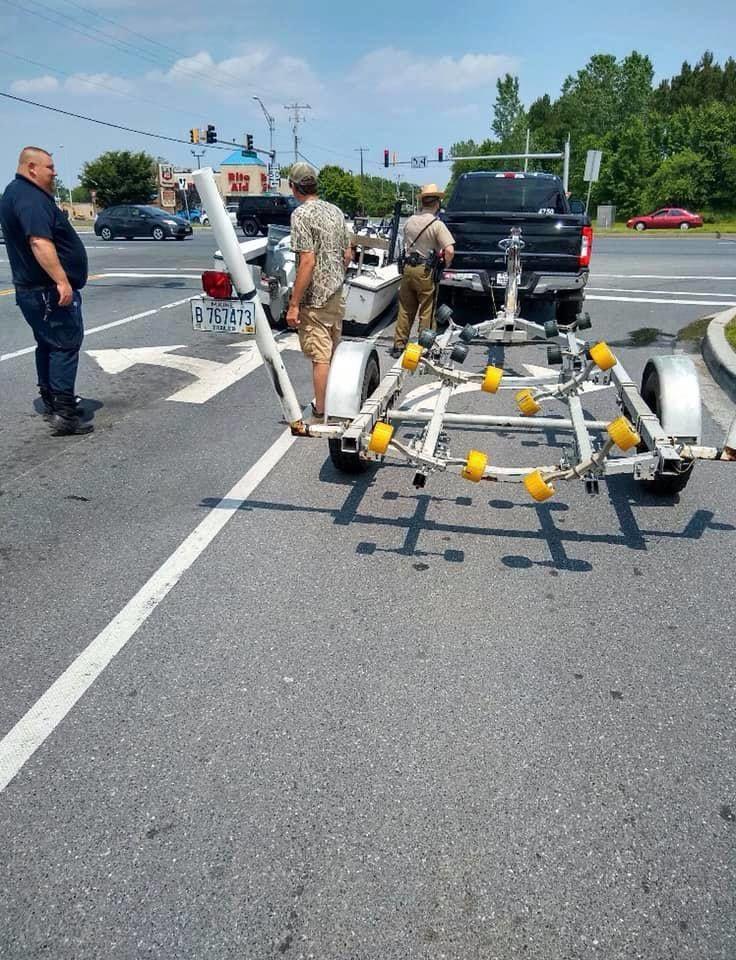 Social media's role
Bradshaw's post expressing condolences and explaining the firm's side has drawn more than 2,200 comments, with many attacking the firm for the price it charged and calling the company and its owner various names.
After learning of Chris Bailey's death, the firm removed a post on its Facebook page that showed the incident. Jane Bailey shared a photo she said was the one posted by the firm.
"We pulled the single photo of this incident today once we learned of the young man's passing," Bradshaw's Towing wrote on Facebook. "We posted no videos, and the photo was part of a wider post discussing services completed on that day."
Someone commented: "I mean I would have left it up so that you don't look guilty of anything but insane pricing, to which the firm replied, "I understand that. But, we pulled it out of respect for the family, particularly if this contributed to their loss."
"I'm receiving threatening phone calls, and my home is getting shared," Bradshaw later wrote. "I'm explaining what occurred that day because people are threatening me, my business, and my family. We're sorry about his death, and we'd never wish it on any parent. However, we have to explain our actions before one of my guys or I get hurt.
Another photo found on social media and seemingly taken from a passing vehicle shows what appears to be a Dorchester County deputy and the same man in blue in the area of the boat and trailer. Chris Bailey is in the background near his pickup.
Julia Blackburn, Chris Bailey's girlfriend, addressed both photos in a comment on the state police post.
Blackburn wrote that Bailey's boat "was 21ft... not 26. Those officers handed him the tow company's card and told him he HAD to call them.... he begged to get his own friends to help him get his boat back on the trailer. There was also a photo posted of Chris standing with the boat on the tow company's page... many joking comments under it. MSP is such a joke. There's also a picture of the towing man and a Cambridge officer with their phones out and laughing. I will post that once I get it."
In comments on Facebook, various people attacked the man in blue for smiling, with many assuming he was a towing company employee.
But that man and others identified him as a paramedic who happened to be going by the scene.
The paramedic wrote in a Facebook comment "... are u referring to the guy in blue? If so yes I was laughing I knew Chris before this incident and we had been joking about his old vw bug and other stuff while we waited for the tow truck"
"I just happened to be at that intersection when his boat came off trailer," the paramedic wrote.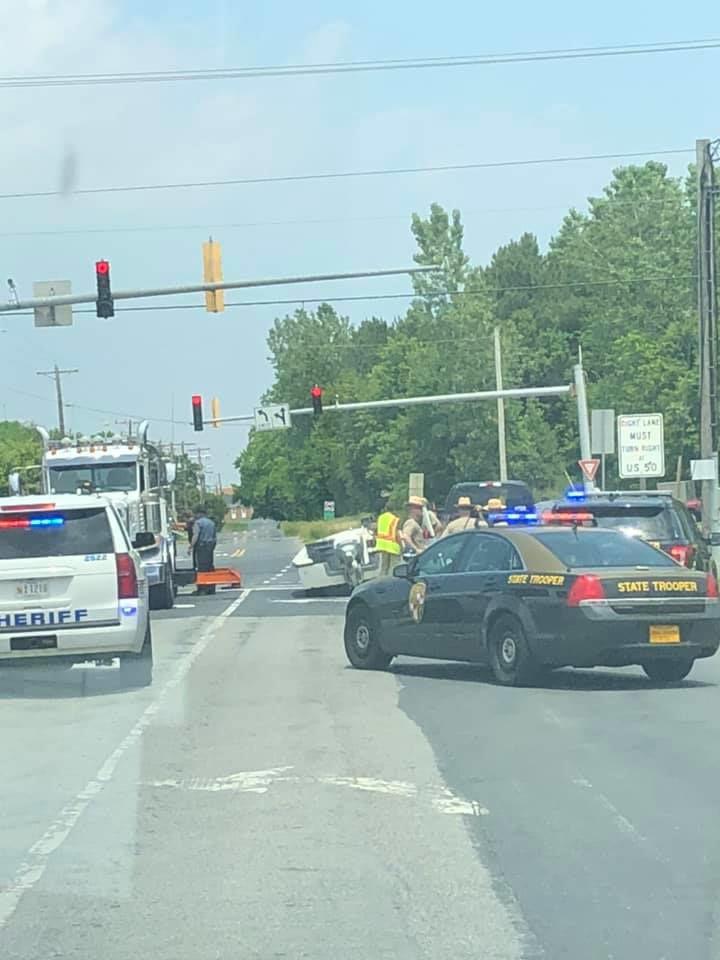 Another poster shared a different photo of the scene, with the wrecker in place setting up to remove the boat from the highway and state troopers and a Dorchester County Sheriff's Office vehicle there for traffic control.
In that photo, three state troopers appear to be talking as a man wearing a safety vest for visibility stands near the boat. A Dorchester deputy appears to be talking with another man near the wrecker.
Hypocrisy and herd mentality?
A number of people commenting on the Facebook posts noted that many of those posting were hypocrites by doing the same thing that Jane Bailey said contributed to her son's death and urged compassion for all involved.
"To those who read the post of the hurting mother: remember she blamed bullying for what occurred," another wrote. "Do not let your words now bully another on this post. The moral of the story should be to spread more love than hate. Show your compassion now, more than ever."
"While the loss of a life, especially in this matter, is heartbreaking, the threats and words being used by everyone commenting are hypocritical. People who have nothing to do with this situation are mocking, name calling, and destroying a business which is exactly how this young man began his spiral. I hope this doesn't have the same ending or you are all just as culpable," one wrote.
"I'm so sorry for your family's loss. It's tragic when someone is in so much pain they think this is their only option. My heart breaks for you," another commented on Jane Bailey's page.
"To everyone else, herd mentality is making you justify the fact that you are treating the police and tow company worse than they *supposedly* treated this young man. You are all gathering with your pitchforks and torches, and at this point I wouldn't be surprised if you demanded burning them at the stake. Take a step back from the emotion to use some reason. You don't know the facts. If the police or tow truck driver now commit suicide because of your public condemnation and humiliation, are you responsible? You're acting way worse than the alleged 'bullies' with your insults, name calling, and threats."
Pricing
As for the pricing, although hundreds bashed the towing company for the price, with one commenting that $1,500 an hour "was a complete ripoff," others defended the firm and the services it provides.
"What's wrong with having a nice wrecker...? We need to have the equipment ready at a moments notice just like a fire department and you wouldn't want them riding around in some junk would you? Rotating wreckers cost anywhere from $200,000-$1 million," another commented. "If that job isn't being billed properly How would they ever pay the note on these vehicles? These are short term notes, not like a 30 year note on your house, more like a six year note. How the hell are you supposed to pay for $500,000 truck if you don't bill out Your invoices properly?"
"People don't see that. They think it's a 10 minute job and you're done," another wrote. "They don't see the cost of the truck, insurance, state-mandated permits, the cost of obtaining a CDL, providing competitive pay to employees with the required certifications to operate the equipment, diesel, etc...."
And Bradshaw's noted: "The particular truck used costs $635,000 and gets approximately 4 MPG. Two men also had to go to work on a Saturday. Hence the charges."
Anyone struggling with suicidal thoughts is urged to call the Maryland Crisis Hotline at 1-800-422-0009 or the 24/7 National Suicide Prevention Hotline at 1-800-273-TALK (8255). Text a trained crisis counselor anytime by messaging 741-741.