CENTREVILLE — Hurricane Dorian is not expected to have much affect on the Mid-Shore. Tropical storm force winds and rain will pass by Friday, Sept. 6, but most will stop short of Queen Anne's County.
"We're expecting just some wind and rain, nothing serious," said Queen Anne's Emergency Services Director Scott Haas. "We're not under any warnings or watches."
Of the Mid-Shore counties only Dorchester is likely to see heavy rain, Haas said.
The National Weather Service issued a Tropical Storm Warning for Dorchester, St. Mary's, Somerset, Wicomico, and Worcester counties Thursday afternoon. Current forecasts indicate that tropical storm force winds are expected for the lower Eastern Shore of Maryland and St. Mary's County, as well as adjacent waters.
"With Hurricane Dorian expected to affect the Lower Shore and St. Mary's County, I have directed state agencies to stand ready to respond and I urge Marylanders to take all appropriate precautions," said Governor Larry Hogan in a statement. "Please stay tuned to your local news stations and emergency management offices for the latest updates and, most importantly, use common sense."
The projected timeline for rain from Dorian to arrive in Queen Anne's is about 8 a.m. Friday, Haas said. The county's 911 center will be partially activating Friday — "just as a precautionary measure."
The National Weather Service in Mt. Holly reported a high risk of dangerous rip currents along the coast Thursday morning, Sept. 5, due to building swells and onshore wind. Even worse surf conditions are predicted for Friday, when the center of Hurricane Dorian is expected to pass the area well offshore.
Rain and northeast winds from 30 to 50 mph are forecast for Friday with the highest along the coast and adjacent marine area, NWS said.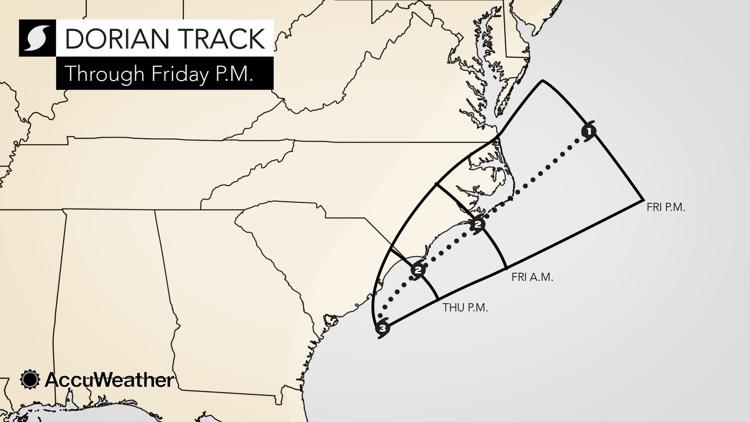 AccuWeather News reported the Mid-Atlantic and New England coasts will be spared a direct hit by Dorian as a hurricane with the eyewall forecast to remain at sea.
While rain and breezy conditions are not likely to extend very far inland over the region, tropical storm conditions are forecast for portions of the mid-Atlantic during Friday and Friday night and southeastern New England during Friday night and Saturday, Accuweather forecasters predicted.
Minor coastal flooding and beach erosion with stiff winds will spread north over the Delmarva Peninsula and southern New Jersey Friday then along Long Island, New York, Friday night.
The Maryland Department of Transportation State Highway Administration prepared Thursday for potential flooding along areas of Maryland's Eastern Shore from remnants of the hurricane.
High tides and storm surge, along with tropical storm force winds are likely to impact low-lying areas of the Shore and Southern Maryland, SHA officials said.
SHA crews were out proactively inspecting and, if necessary, clearing drainage inlets, storm drains and drainage ditches. Additionally, crews were checking that generators are operational and fully fueled and that road closed signs, chain saws and wood chippers are topped off and ready for rapid deployment.
SHA offers the following tips to keep in mind during heavy rain storms:
 •  "Turn Around-Don't Drown" — it only takes a few inches of water to cause a vehicle to move;
 •  Plan for extra travel time as some roads may flood and be temporarily closed;
 •  Never attempt to remove a fallen tree from the roadway, especially if there are electrical wires tangled in the branches;
 •  Should an intersection loose power and traffic signals become non-operational, treat all approaches of the intersection as a two or four-way stop;
 •  Be aware of flood prone areas and avoid those routes;
 •  Please don't litter. Trash clogs storm drain systems and impacts highway drainage;
 •  Remember state law requires the use of headlights when windshield wipers are being used; and
• Get the latest real-time traffic information at md511.maryland.gov.