STEVENSVILLE — While many eastbound commuters reported delays getting home shortened by an hour, even two, Thursday and Friday afternoons, Oct. 3 and 4, compared to last Friday, local Kent Island traffic and westbound commuters experienced even longer delays this week.
The biggest eastbound glitch reported Friday was when the commuter bus from Baltimore stranded Eastern Shore passengers on the western side of the Bay, refusing to travel back to Kent Island.
"MTA 210 Commuter bus leaving Baltimore to Stevensville not taking commuters over the bridge since bus can't return! Commuters either get stuck in Baltimore or Annapolis with no transportation home!" Kathy Simpson posted on the Kent Island Happenings Facebook page.
Sally Yanulis Bell asked what commuters on Bus 210 were supposed to do. Chris Peranio traveled as far as Annapolis Mall before being stranded.
Several Kent Island residents on the Facebook page offered rides to help commuters get back to the Stevensville park and ride.
"With the start of the Bay Bridge work, traffic patterns and travel restrictions continue to fluctuate daily. Commuter Bus operators are adjusting to the new bridge travel procedures. We believe the incident tonight was an isolated occurrence and we apologize that the passenger's trip was not completed as expected," said Veronica Battisti, senior director of communications and marketing for the Maryland Transit Administration, in an email to the Bay Times Friday afternoon. "MDOT MTA has communicated to our Commuter Bus operators that all routes are to be completed as scheduled and under no circumstance is it acceptable to strand a passenger."
Commuter Leo Djiwatampu reported, "The 240 and 250 buses were very nice to bring the commuters back to KI and Grasonville. These routes were contracted to Dillons. The 210 is by Academy."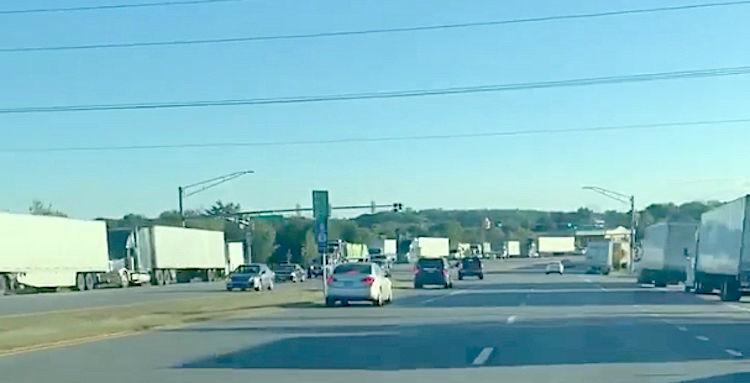 After last Friday's nightmare commute when backups extended beyond the I-97 exit in Annapolis, Maryland Transportation Authority announced changes Tuesday, Oct. 1, intended to reduce traffic backups during the $27 million, two-year Bay Bridge rehabilitation project — allowing two-way traffic on the westbound span and instituting cashless tolls Thursday and Friday afternoons and evenings.
Sept. 27's backup was exacerbated by at least seven different instances outside of normal traffic — two crashes, two debris removals and several disabled vehicles, said MDTA Executive Director Jim Ports in a phone interview Friday afternoon.
Two-way operations had been suspended on the Bay Bridge since Sept. 24, and the right lane of the westbound span closed completely Sept. 30. The full right-lane closure is supposed to continue through April 2020, except for the Thanksgiving holiday.
The original plan called for no two-way traffic on the westbound span for the duration of the project because the two remaining travel lanes have been reduced to 11 feet and engineers said it was too dangerous.
After last Friday, Maryland Department of Transportation announced a plan to completely stop westbound traffic and use all four lanes to clear eastbound backups when they reached that distance, the I-97 exit, in the future — outraging many Eastern Shore residents.
"I was the one that said no," Ports said, adding he knew no lanes traveling west would mean long backups on the Shore and gridlock in neighborhoods. He went back to the engineers and asked again about two-way traffic.
"We do contra-flow in the Harbor Tunnel, which has 11-feet lanes," he said.
The engineers still weren't convinced, saying it was too dangerous at highway speeds.
With his background at the National Traffic Highway Safety Administration, Ports said, "I'm a big safety guy." He didn't want to do anything dangerous, but he thought it could work.
Ports said he asked, what if we do it at a reduced speed limit, 25 to 35 mph, and they could have MDTA Police travel the span and help slow vehicles down during two-way operations. They agreed, with large commercial trucks prohibited from traveling west during contra-flow traffic and no contra-flow during wind warnings.
"We believe that's a better solution then holding up traffic on one side," Ports said.
They announced two-way traffic would be implemented allowing three lanes traveling east and one going west during "severe backups" on the western shore, but no one defined what constituted a "severe backup."
Drivers can help by staying alert, keeping speed down and maintaining a safe distance, MDTA said.
"It's imperative that people understand they need to pay attention and drive only," Ports cautioned, don't be on their phones or distracted looking at the construction or watching traffic on the Bay.
When you have a construction project, and you've lost 20 percent of your total lanes, 33 percent of the eastbound lanes, and you have the same amount of traffic, it's going to be disruptive, Ports said. "We're doing the best we can to minimize the impact."
He said prior to the project commencing they had tried to scare travelers who don't have to use the Bay Bridge to get to and from work to stay away, warning of major delays and announcing they should expect three mile backups everyday during rush hour. He said the tactic had worked well for the Harbor Tunnel project in Baltimore, but where there were other options on the Harbor — Key Bridge, 695 — those options don't exist for the Bay Bridge.
With cashless tolling at the Bay Bridge from noon to 10 p.m. on Thursdays and Fridays, cash drivers move through the toll plaza without stopping.
Those drivers will get the same $4 rate they would have paid and will receive a statement in the mail, Ports said. Drivers are encouraged to get a free E-ZPass transponder at ezpassmd.com to simplify toll payments.
During cashless tolling, MDTA will narrow 11 lanes at the toll plaza down to six. Toll lanes 1 and 2 will remain coned after the toll plaza to allow for quick conversion to two-way operations. During normal cashless toll operations, toll lanes 1 and 2 will merge into the left lane of the eastbound bridge and toll lanes 3 through 6 will merge into the right lane of the eastbound bridge.
During cashless toll periods, toll operators will continue to provide a customer service role, helping wave drivers through tolls and answer any questions customers may have, MDTA said.
Both strategies were implemented Thursday afternoon.
"Two-way traffic started at 5:30 p.m.," said Kelly Melhem, MDTA director of communications, in an email. "At that time, EB traffic was back four miles to Exit 28, Bay Dale Drive. The decision to implement two-way involves not only constant and real-time monitoring of the back-ups and weather, but also monitoring what traffic is headed east toward the bridge further back on the US 50 corridor."
The decision was made by Bay Bridge operations; what they saw yesterday was we had a four-mile backup, and they were tracking other roadways — I-97, Route 2, St. Margaret's — trying to anticipate what was coming, Ports said.
"We're humans trying to make decisions on the best information we have," Ports said.
While having three lanes coming east helped ease the backup on the the western shore, it created chaos on Kent Island. Tractor trailers, buses, campers, cars pulling boat trailers, box trucks and more were prevented from traveling west and soon lined U.S. Route 50 and Md. Routes 8 and 18.
MDTA reported the westbound backup extended just a mile on U.S. Route 50, but traffic also backed up on Routes 8 and 18, with parents reporting they couldn't get from one side of the island to the other to pick children up from day care on time or to get them to soccer games.
Two-way operations ended at 6:44 p.m. Thursday and trucks were allowed to cross west starting at 7:07 p.m.
"Our operations people are trying to do the best jobs they can. Not everybody can anticipate everything that can occur. It's difficult to know when to pull those triggers," Ports said.
Friday afternoon two-way operations on the westbound span started shortly after 3 p.m., and the resulting westbound backup was even worse than Thursday, with traffic stretched all the way across Kent Island, over the R. Clayton Mitchell Jr. Bridge at Kent Narrows, and all the way to the 50/301 split in Queenstown at one point.
Trucks lined both sides of Route 8 and stretched even farther south than Thursday.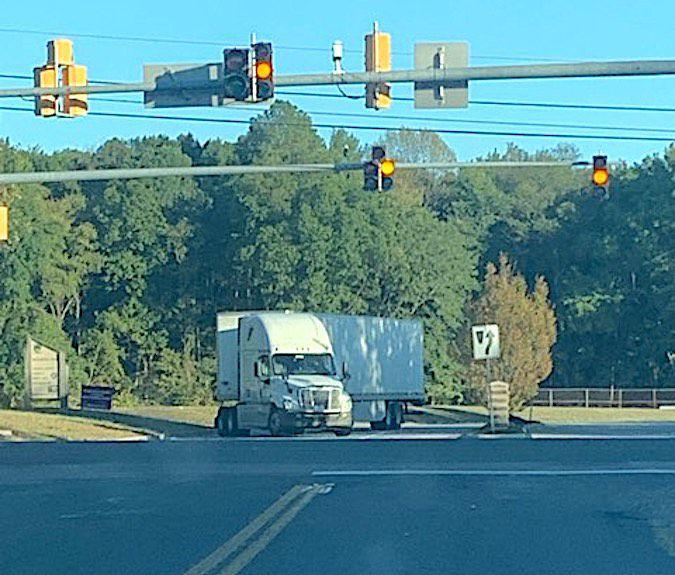 "This is the reason school buses can't get home on time, parents can't get home to their kids, can't go to the grocery store. What happens if someone has a heart attack? .. . this is insane," said Andrea Hall. "… how can this be allowed two days in a row?"
Her commute from Easton to Bay City took her 95 minutes Friday.
"Someone please explain to me the reasoning/fairness in still only allowing one lane WB on the Bay Bridge while EB has 3 lanes when the backup WB has grown to almost 5 miles while the EB traffic backup has been reduced from 5 miles to less 1.7 miles! " Philip Gambino posted on Kent Island Happenings.
Steven Hardesty reported gridlock on Route 18 and said they needed police to direct traffic. In 40 minutes, he traveled the distance of the Safeway parking lot. After an hour, he had made it as far as the old Safeway.
Trish Holloway reported a similar experience on Route 18. It took her an hour to go from one end of Red Apple Plaza to the other.
Jane Molnar's normal 10-minute trip home from CVS took an hour.
Kent Island residents on U.S. Route 50 fared no better. Sue Spang Moynihan said she picked her son up from sailing practice at the Narrows and Google Maps told her it would take two hours to get back to Bay City, on the other side of Kent Island.
Mindy Reeves reported it took her three and a half hours to get from the hospital in Easton to Route 8 on Kent Island. By the time she reached Route 8, it had cleared.
Many of those stuck in traffic took the delay with good humor. Shannon Peregoy rated the "highway party" a 1 out of 10.
"No one was dancing everyone just sat in their cars, there was no DJ, it seemed really unorganized, not a single snack or even some of that liquid gold, a lot of the guests seemed really unhappy to be attending the party, I also saw some cool strobe lights on some cars but those guys looked too serious for the party," Peregoy posted. She said she would skip the next party unless there were snacks on 301.
Drivers suggested roadside stands to sell snacks and drinks; they wanted port-a-potties; someone suggested drone-delivery of sodas, another organizing a potluck; one person suggested cooking meals on your car engine.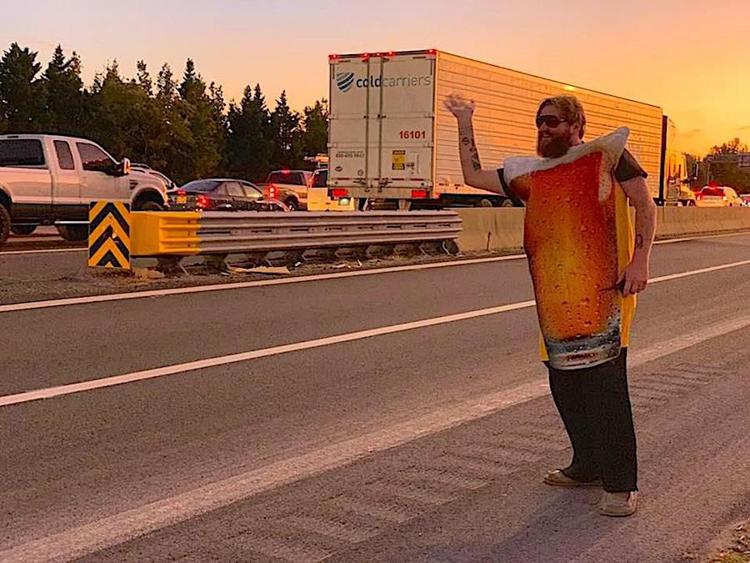 Cult Classic Brewery in Kent Island Shopping Center sent out a beer-costumed man to wave to travelers. "Beer here. Get your beer here," the business posted on Facebook with a photo.
Lisa Malaska Courtney posted there was a good business opportunity for Bay boats to start a shuttle service and have Uber drivers ready at Sandy Point and the Stevensville park and ride.
Mother Nature may have shortened the wait for westbound travelers Friday evening. Wind warnings went into effect at the Bay Bridge and two-way operations were suspended at 6 p.m.
Melhem said all delays were cleared in both directions by 8 p.m.
Despite Friday's snafu, Battisti advocated MTA buses as an effective travel option for commuters. She said MTA offers 12 trips from Kent Island to Baltimore and 23 trips to Washington, D.C., with plenty of available seats.
She said, "MDOT MTA will continue to work with the providers to ensure MdTA travel restrictions on the Bay Bridge are clearly communicated."
The westbound span will close between 9 and 11 p.m. nightly and reopen at 5 a.m.
During the closure, two-way traffic will operate on the eastbound span, limiting eastbound and westbound travel to one lane in each direction. Expect major delays in both directions, MDTA said.
MDTA said SHA will continue to dispatch additional CHART vehicles to address any incidents on Route 50 and parallel routes. MDTA Police will continue to work with Maryland State Police, Anne Arundel County Police Department and Queen Anne's County Sheriff's Office.
While cashless tolling is reserved only for Thursdays and Fridays, two-way traffic may be implemented any day Bay Bridge operations determine it is needed.