CENTREVILLE — Centreville quilt artist Dr. Teri O'Meara's latest art quilt, "Lollipop, Lollipop, Oh, Lolli, Lolli, Lollipop!," will be featured at the Pennsylvania National Quilt Extravaganza in Philadelphia Sept. 12-15.
"Lollipop" is an interpretation of a quilt originally made by O'Meara's great-grandmother and finished by her grandmother. She called it a "happy quilt."
"As children, my brother and I would march his toy soldiers up and down the patterns made by the paths of the pattern," O'Meara said. "Since the original quilt was made with leaded silk, it had disintegrated by the time I was 12 years old. I was determined that one day I would recreate it."
She started work on the quilt in 1967 and finished it this year, 2019.
She said she chose the name because the design of the colorful quilt reminded her of the twisty lollipops you'd get at the carnival and the "Lollipop" song was popular back then.
"It contains fabric from my junior prom dress, which I thought was so stylish that I made the same dress in blue for my senior prom," she said. "In reality, both dresses had bows that made me look like a 747 coming in for a landing. The fabric looks much better on 'Lollipop' than it ever did on me."
She continued, "This quilt contains decades of hundreds of scraps of scavenged, gift and thrifted silk from prom dress fabric, to dupioni, to neckties, to recycled blouses and jackets."
In addition to the issues of working with different weights of silk, the supreme challenge was to take the same repetitive quilt block and change the color, value and hue to create the illusion of varied patterns that would produce movement when viewed from a distance, she said.
While dupioni silk is extremely difficult to work with, it helps make it dazzle, O'Meara said.
"One of the things that makes a silk quilt dance is many textures and colors," she added.
The final challenge was to incorporate the poison greens of the original quilt and make them work with available fabrics, she said. O'Meara described poison green as a really tough, in-your-face color green popular in the mid 1800s.
With all the colors, "it's pretty wild," she said.
Of all the art quilts she has done, O'Meara said "Lollipop" is probably her favorite "because it's joyous."
This is the second year in a row O'Meara has had one of her quilts jury into the national competition, and in 2016 she had two quilts featured in the Pennsylvania show.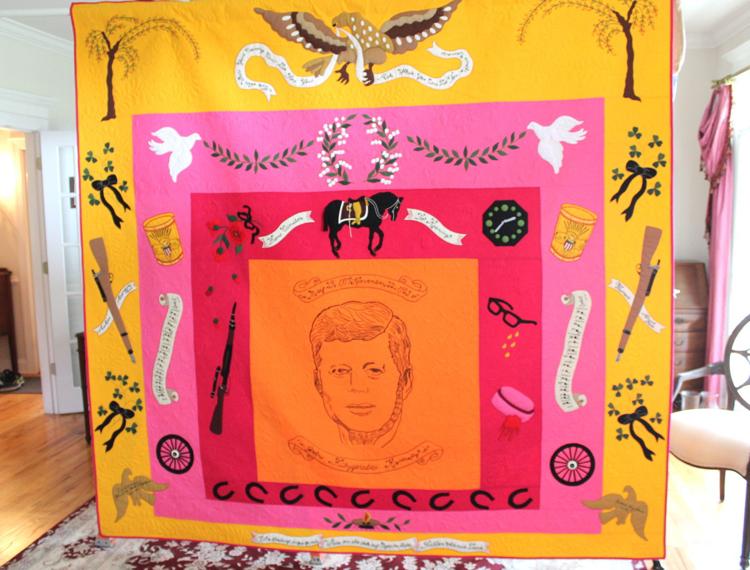 Last year's entry "From Camelot to Keening: Death of Innocence," commemorating the death of President John F. Kennedy, won "Best Sewing Machine Workmanship" at the 2018 show. Last month it juried into international competition at World Quilt New England, O'Meara said.
Both "Lollipop" and the JFK quilt were started decades ago. O'Meara said she has started lots of quilts throughout the years, and they are in various stages of completion.
"What I typically do is pick a show to enter, and it makes make finish them," she said. "I don't enter them to win prizes, but if I do win a prize, that's fun."
The Pennsylvania National Quilt Extravaganza is held at the Greater Philadelphia Expo Center in Oaks, Pa. The show will feature 600 quilts and works of textile and wearable art from all over the world.
This year's quilt competition, "Sew They Say," asked entrants what they are saying with their work.
Mancuso Show Management President David Mancuso said, "Quilts are sometimes folk art, sometimes very classic, and at other times modern – but all are truly works of art. The PNQE Competition incorporates pieces from the best quilters in the country to be judged, and enjoyed by spectators and other quilt artists."