CHESTERTOWN — Maryland's two leading Republicans appear to be at odds over whether the coronavirus curve has been flattened enough to reopen the state's economy.
U.S. Rep. Andy Harris, R-Md.-1st, while not necessarily calling out Gov. Larry Hogan, a fellow Republican, by name has been very vocal of late in his criticism of the continued shutdown to try to keep COVID-19 at bay. Harris has taken to Facebook to voice his concerns and spoke at a protest held in Salisbury Saturday, May 2.
Hogan, appearing Sunday, May 3 on CNN and Fox News spoke about the need for caution when preparing to reopen the economy. He has laid out a plan for doing so that he said falls within guidelines set out by President Donald Trump's administration.
It appears where the congressman, who is up re re-election this year and faces a contested primary, and the governor, who is in his second and final term in this office, differ is on the timeline and the status of Maryland's coronavirus outbreak.
As of Wednesday morning, May 6, Maryland had 28,163 confirmed cases, an increase of 1,046 in the previous 24 hours, and 1,338 confirmed deaths, up 48 in the last day. Kent County showed 94 confirmed cases and eight deaths.
"We're hoping to get our numbers to plateau so we can get things open as quickly as possible because we've got too many people not working and too many businesses that are suffering. But we also want to make sure that we do it in a safe way because sadly our numbers are climbing, our deaths are climbing and we've got to make sure that we don't see the spike that we've seen in other places like New York and New Jersey and elsewhere across the country," Hogan told Fox News on May 3.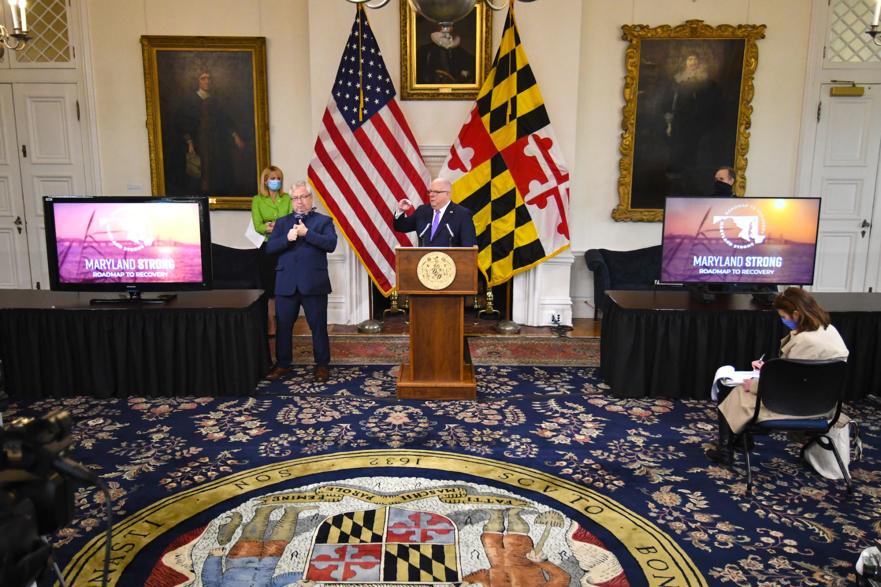 Harris has posted on Facebook, on his @harrisforcongresscampaign page, that "we have lowered and flattened the curve of COVID-19." At the protest and on Facebook, he has said, "a bad economy is bad for health."
That protest, which Harris attended the day before Hogan's television appearances, was organized by a citizen's group called Reopen Maryland. Participants drove from Frederick across the state to Salisbury, where Harris spoke to them without wearing a face mask.
Harris said a lot has been learned about the virus over the last six weeks. He said if people take "some common protective measures, you will be at much lower risk."
"What we're seeing now is we have learned things and they're just going to keep things shut down. Well, what happened to all the things we've learned?" Harris said. "What we've got to do is we've got to say, 'Look let common sense prevail now. We know what's safe and what isn't.'"
Harris said there will not be 2 million deaths in the United States from COVID-19 as some experts had estimated. He said estimates of 20,000 to 40,000 deaths in Maryland were "off by a factor of 10, maybe."
Harris touted his background as a physician and a politician in backing up his statements.
"Ladies and gentlemen, we are at a crucial moment," Harris told the crowd. "I've practiced anesthesia for 40 years in an operating room. I've sat in the General Assembly. I've sat in Congress. Let me tell you something, it is safe to begin to reopen Maryland."
Harris spoke multiple times to protesters about their rights to "redress your grievances with a federal official," himself. He asked if anyone received a ticket or summons for violating stay-at-home orders and when he received a yes from a woman in the crowd, he said he would join her in court.
"You get your name and address to our offices. I'm going to court with you because I want to look a judge in the face, I want to look ta judge in the face who will abridge your First Amendment right to talk to a federal official and redress your grievances," Harris said.
Harris spoke about not being able to attend church, saying "the state has decided if my religion is essential or nonessential."
"Now I didn't wake up in communist China and I didn't wake up in North Korea this morning and tomorrow morning I should be able to go to the church of my choice and worship the way I choose," he said at the protest.
In a May 1 Facebook post on his other page @AndyHarrisMD, the congressman wrote about reopening businesses that could be considered "low risk."
Harris followed that up in posts on May 2 calling for small family-owned business like the Kite Loft in Ocean City and restaurants to be allowed to reopen provided they comply with Centers for Disease Control and Prevention guidelines. In a May 3 post he said it is time for Maryland to reopen churches, parks, golf courses, marinas and low-rick businesses and allow recreational boating and fishing.
On a tour of several Queen Anne's County businesses April 29, Harris visited Queenstown Harbor Golf Links.
"We have 750 acres of fresh air out here for people to play golf and practice social distancing," said General Manager John Anderes, who spoke about the course's plan to ensure players respect COVID-19 health mandates. "We've had all of this ready for sometime, and we're ready to reopen when the OK is given. We normally have 45 employees working here at this time of year. Right now, we're down to only eight employees working to maintain the grounds."
Hogan held a news conference Wednesday, May 6 at which he announced golf courses can reopen and boating and fishing, among other outdoor recreational activities previously barred, are allowed again. Meanwhile, it was announced schools will be closed for the rest of the academic year.
While Harris started his speech at the May 2 protest in Salisbury invoking the U.S. Constitution and First Amendment rights to peaceful assembly, he pivoted as he spoke on the source of those rights.
"So listen, God bless you all. Thank you for being here. We need to have a voice of reason as we go forward and restore our freedoms and liberties that are given to us not by the United States, not by the State of Maryland, not by the City of Salisbury, but by God," Harris said in closing.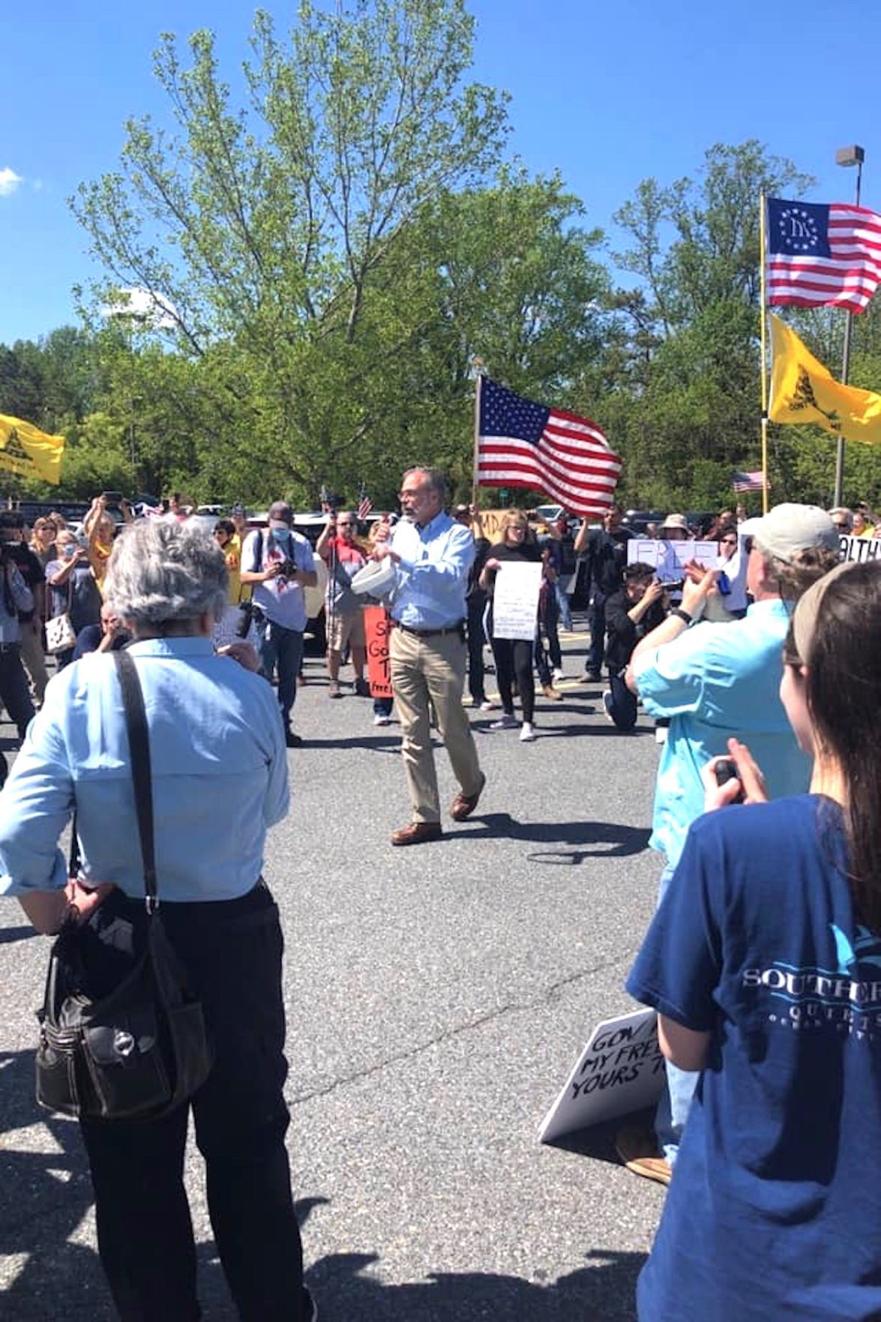 In his appearance on CNN the next day, Hogan was asked by anchor Jake Tapper for his thoughts on Harris' statements at the protest, notably the comparison to the governor running Maryland like "communist China and North Korea."
"Well first of all, look, I think everybody has a right to protest and express their feelings. A couple dozen people did so yesterday and they have every right to do that. Sadly, we had far more people die yesterday in Maryland than we had protestors," Hogan said.
As for Harris in particular, Hogan offered, "I really don't have any further comment. I mean he's obviously got the right to say whatever crazy things he wants to say. But, you know, I don't really need to respond to them."
While not naming the governor is a Facebook post that same day, Harris appeared to return fire, criticizing the disastrous launch of the state's unemployment benefits website that left would-be applicants waiting hours in virtual lines to gain access.
"People are suffering during this government-mandated shutdown. Maybe time spent by leaders on CNN criticizing legal protests could be better spent fixing the system," Harris posted on Facebook.
In his Fox News appearance with anchors Bret Baier and Martha MacCallum, Hogan said he sympathizes with small business owners and those who are out of work. He spoke about how his reopening planning follows Trump administration guidelines.
"I'm a lifelong small business owner and nothing matters to me more than getting our economy back on track. But we want to make sure we do so in a safe way," Hogan told Fox News. "Unfortunately in our state our numbers have not yet started to decline or even plateau. We're still going up. And so we're going to be taking a look at it every day to see when we can start to get things back opened up again safely."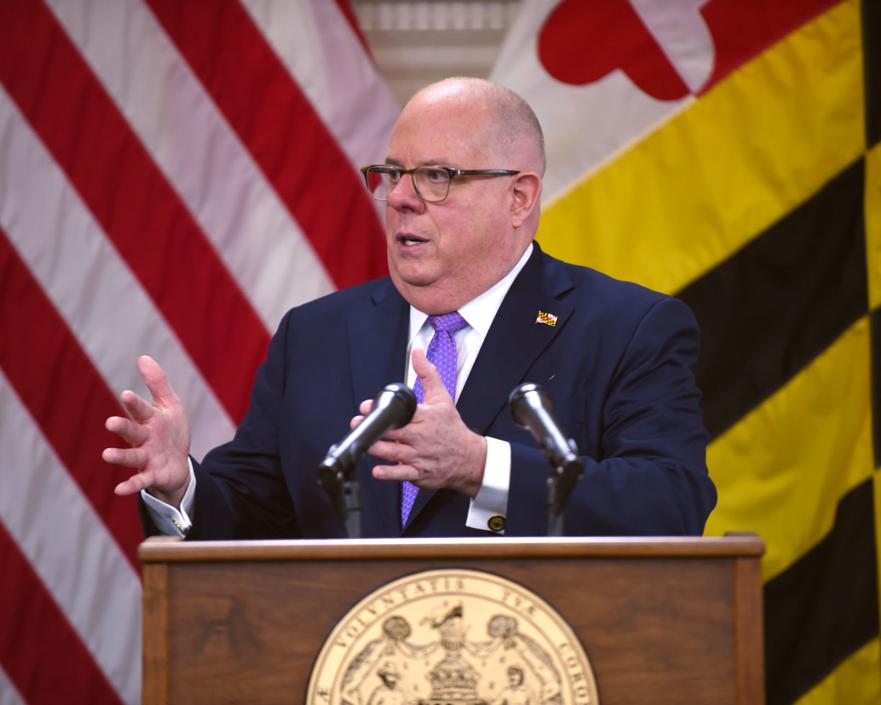 When Hogan announced his reopening plan April 24, the Maryland Chamber of Commerce offered its support.
"We are continually grateful for Governor Larry Hogan's steadfast leadership throughout this unprecedented health crisis," said Maryland Chamber of Commerce President and CEO Christine Ross in a statement April 24. "We, like the governor, want to see Marylanders get back to work safely. We will continue to engage our membership to fully leverage their expertise in this area, and we hope that the governor will do the same as he continues to make vital decisions about the future of the economy."
On CNN May 3, Tapper showed Hogan photos of crowds in Washington, D.C. not complying with social-distancing mandates and asked for his reaction when he sees such images.
Hogan, who also is chairman of the National Governors Association, said scenes like those are a concern. He spoke about wanting to get states reopened in a safe way because "people are getting frustrated."
He said that while they want to get people outside and enjoying the fresh air after being cooped up, seeing thousands of people "jammed" onto the National Mall in violation of Washington's crowd-size limit is concerning.
"You see this happening around the country as states try to open in a safe way. Unfortunately the pressure is to do it in a not safe way and that's something we're very concerned about and one of the reasons why we're being cautious to try to do things in a slow, safe and effective manner," Hogan said.
Additional reporting by Doug Bishop.