CENTREVILLE — Gov. Larry Hogan and state legislators recently honored a group of volunteers known as the Mask Wranglers for their help in battling the COVID-19 pandemic by sewing and providing more than 43,000 pieces of personal protective equipment to agencies and individuals in all nine counties on Maryland's Eastern Shore.
The Mask Wranglers consist of more than 300 volunteers from all over the Shore, coordinated by Dr. Teri O'Meara of Centreville. Del. Steve Arentz, R-36-QA, brought O'Meara and the her group to the governor's attention. The Mask Wranglers wrapped up their yearlong effort in April. O'Meara and Gary Austin of Easton traveled to Annapolis where they received citations from the governor and the General Assembly.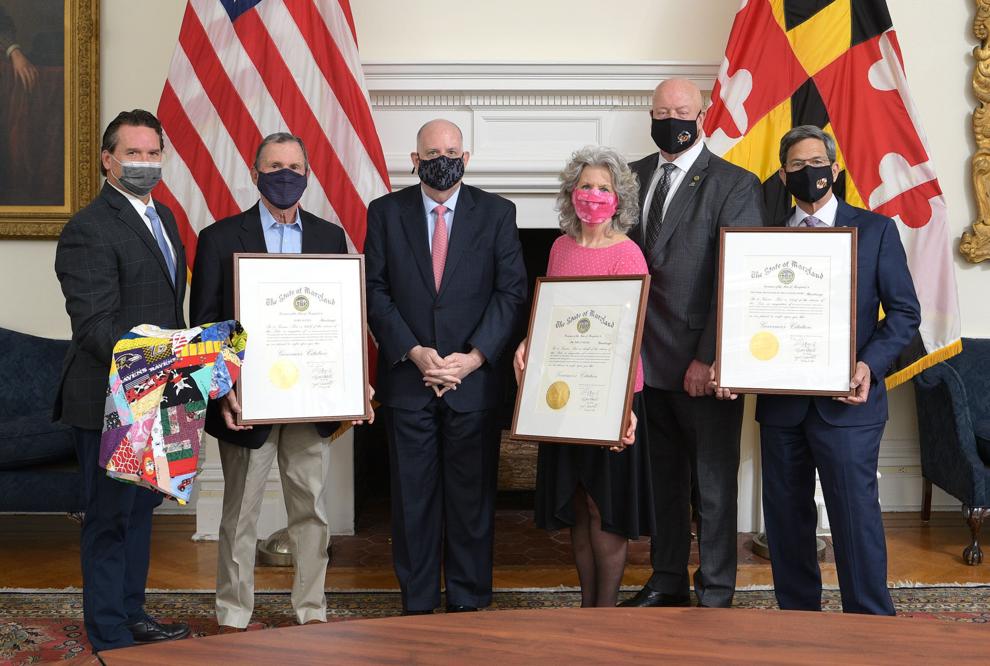 "It was an honor to work with the Governor's office to present citations to Dr. O'Meara and Mr. Austin along with the Mask Wranglers. The work they and the many volunteers have done to provide (over 43,000) masks, gowns and surgical bonnets to state, county and nonprofit agencies covering the entire Eastern Shore was instrumental in slowing the COVID virus," Arentz said. "Some of the types of agencies served were detention centers, hospitals, police and sheriff's departments, congregate living facilities, as well as the Maryland Food Bank and other feeder facilities, protecting staff in these institutions."
Kent County Detention Center Warden Herbert Dennis said, "I called them my angels."
In the beginning of the pandemic, no detention centers could actually find any PPE; O'Meara made it bearable, he said. The Mask Wranglers sewed masks for staff and inmates, enough that they could have one on and one in the wash. Then later, they also provided washable surgical gowns.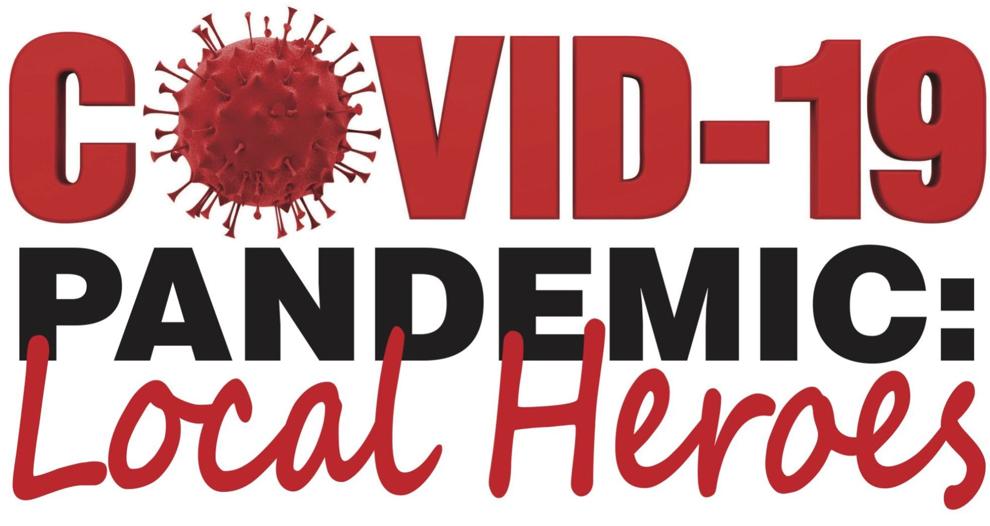 "She made sure we were all protected. O'Meara and her team made it where we could give everybody masks," Dennis said. "They were angels for all Corrections on the Shore."
"Teri is a true live-saver," said Queen Anne's County Sheriff Gary Hofmann. Early in the pandemic, his office was going to run out of supplies. No one could get PPE. "She was the only person offering help."
The Mask Wranglers provided deputies and office staff with washable masks, and O'Meara even included a personal note on each one, he said.
"I don't know what we would have done without her," Hofmann said.
"Hundreds of volunteers have contributed time, talent and supplies to produce PPE," O'Meara said. Some may have volunteered for a week or two, some for months, others for just a specific effort, and some sewed for the entire year.
She described the Mask Wranglers as "women, men and youth who have been volunteering since the first week in March of 2020 to sew masks, isolation gowns and surgical bonnets for requesting state, county and nonprofit agencies in Kent, Queen Anne's, Talbot, Caroline, Dorchester, Wicomico, Worcester, Somerset and Cecil counties. We are first responders, retirees, the frail elderly, essential services workers, 4-H youth and youth at home, sail makers, home sewers, dress designers, boat interior designers, auto detailers, quilters, fashion designers, artists, interior designers and more. We sew using machines from 1890 treadles to 1950s Japanese workhorse machines to modern domestics to industrial machines."
The PPE they created included washable reusable standard pleated cloth masks, washable cloth N95 masks, one-time use masks for use by police departments and protective gear for nurses, physical therapists, office workers, inmates and chemotherapy patients.
O'Meara likened the masks to art — "Beautiful, tiny works of art, lovingly created by sewers from many counties …."
O'Meara, who is a nationally and internationally recognized quilt artist, created a quilted art gown to present to Hogan for the occasion. She inscribed the gown with the names of the volunteers.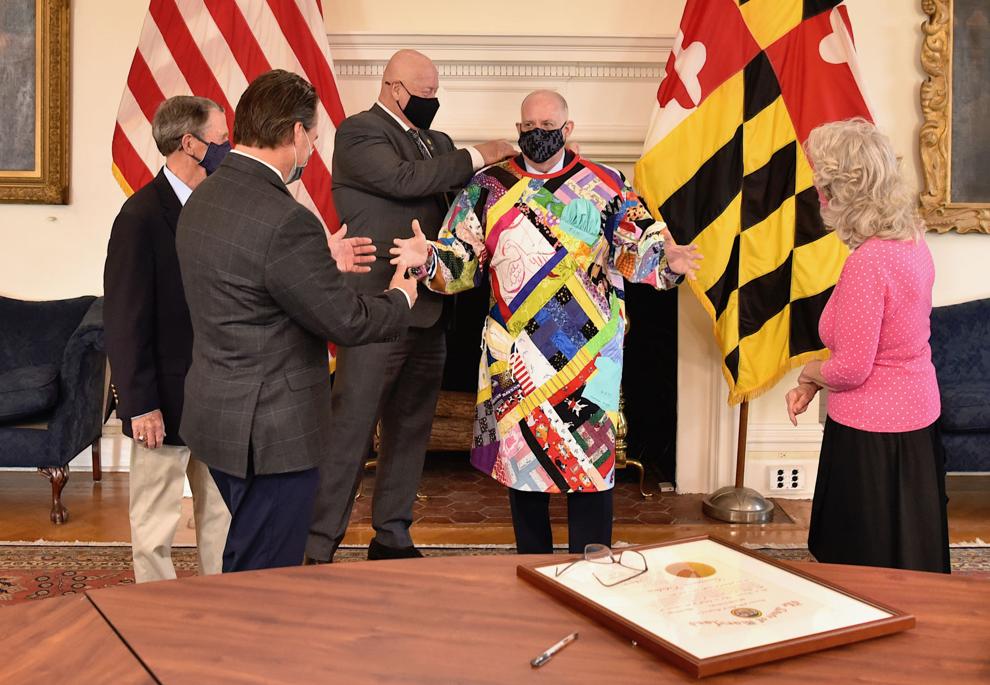 "Hundreds of names. It is so humbling. Entire women's church groups participated. … My friend asked how I could write on such a beautiful piece of artwork. It is not art until is speaks. It will only have a voice when everyone is added. So many amazing people on the Shore. Just so inspiring," O'Meara said.
When they met with the governor, O'Meara got him to sign the PPE isolation gown she made and had him wear it for the photo, Arentz said.
O'Meara called Austin the "driving force" (pun intended) of the Mask Wranglers' effort. A retired U.S. Air Force officer, Austin and his wife Judy, originally contacted O'Meara offering to hand sew masks. She told him the masks were too complicated to make by hand but maybe there was another way he could help. She called him back and asked if he was willing to drive.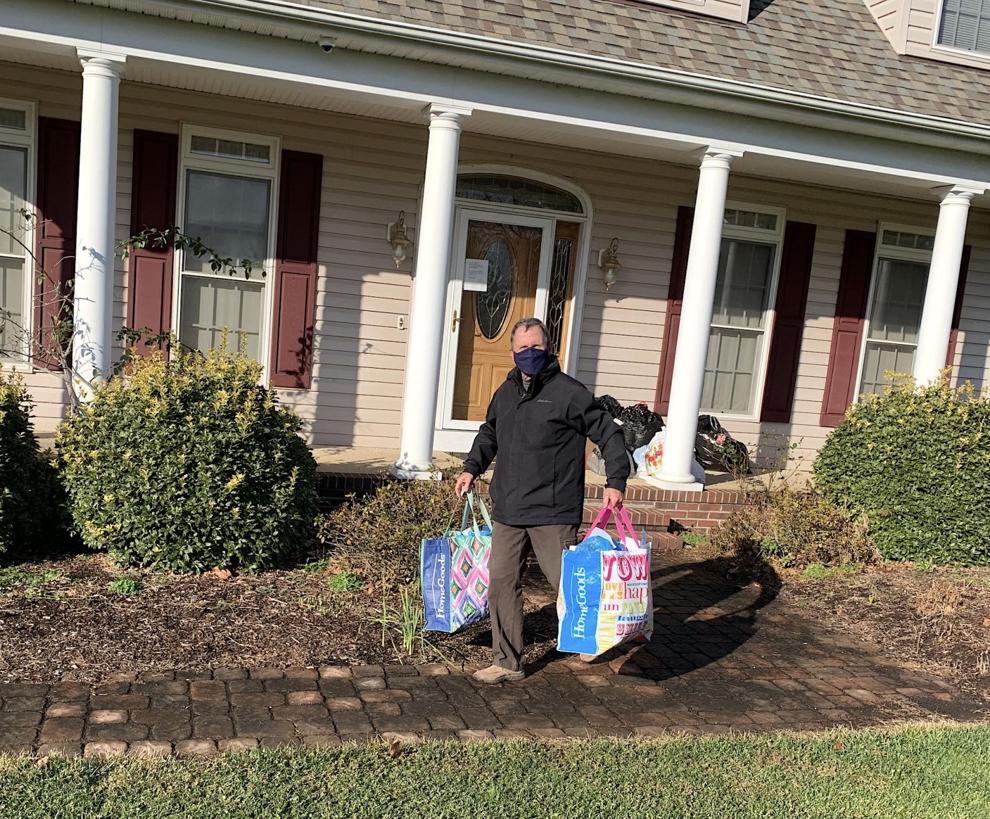 "I don't have the talents to sew or do any of those kinds of things, and I don't have a medical background. But I can drive a car, and I know how to operate a Google GPS. So that kind of fills all the requirements," Austin told The Star Democrat in an earlier interview."
So, he picked up fabric, patterns, pieces, sewing machines and finished products and delivered them where ever they needed to go — driving five hours a day, often more.
"During lock down Gary was granted special permission to be out driving the counties as an essential volunteer. There were several months when Gary was driving six days a week. Without Gary Austin's efforts this project would have been impossible," O'Meara said.
Over the last year, Austin put more than 20,000 miles on his car delivering PPE.
In addition to picking up and delivering supplies to sewers and delivering PPE to agencies, Austin also picked up thousands of bed sheets from numerous community sheet drives (each isolation gown requires over four yards of fabric to produce). He and his wife turned their garage into the storage facility where they sorted and organized mountains of donated sheets, pillow cases, and duvets that he delivered to sewers across the Shore as needed.
O'Meara called Austin her "knight in shining armor."
Both O'Meara and Austin mentioned another Talbot County resident who assisted as a part-time courier, Elizabeth Tong, who made runs to the some of the more remote locations.
O'Meara was spurred to start the effort near the beginning of the pandemic when she approached a quilting group she belonged to for help to mask the local sheriff's office and was turned down because they said they only wanted to sew for their own county. So, O'Meara reached out to the community and her appeal drew tremendous response.
The effort started as one to protect law enforcement and corrections officials. Recognizing that those are situations where social distancing is difficult, if not impossible, masks were even more important. Their mantra became "no deaths in the detention centers," O'Meara said, and they achieved that goal here on the Shore.