WORTON — Using skills they've learned in the classroom, four Kent County High School students are making a real world impact by helping keep their community protected from COVID-19.
Since the outbreak of a novel strand of the coronavirus, Sam Peregoy, Brandon Myers, Jordyn Cox Pemberton and Giuseppe Gordillo are using 3D printers to create face masks and adjustable headbands that help hold masks in place — printing close to 20 masks between the four students.
Some of the masks are being used by Kent County Public Schools faculty who work in food service. Sam Peregoy's father Ken also is helping coordinate distribution of the masks to health care workers.
As the students have already used the high school's existing filament, or the material utilized to print the masks, their production is on hold for the time being.
Kent County Public Schools Supervisor of Technology Bill Poore said he's ordered more filament, but shipment has been delayed.
According to the students, who participated in an interview using the video conferencing site Zoom on Monday, it was both Poore and Peregoy's idea to create masks using four of the high school's 3D printers.
The high school also owns two additional printers, but Poore said those cannot as easily be transported.
Poore said the four printers were purchased by the school system last year using funds raised during the Chestertown Rotary Club's Soup and Sip event. The printers are typically used as part of the high school's MakerSpace program.
The masks are created using a design Peregoy found online called the "Montana Mask." While not intended to replace standard protective equipment such as the N95 masks or surgical masks, makethemasks.com states, the Montana Mask does include a removable part where a filter can be installed.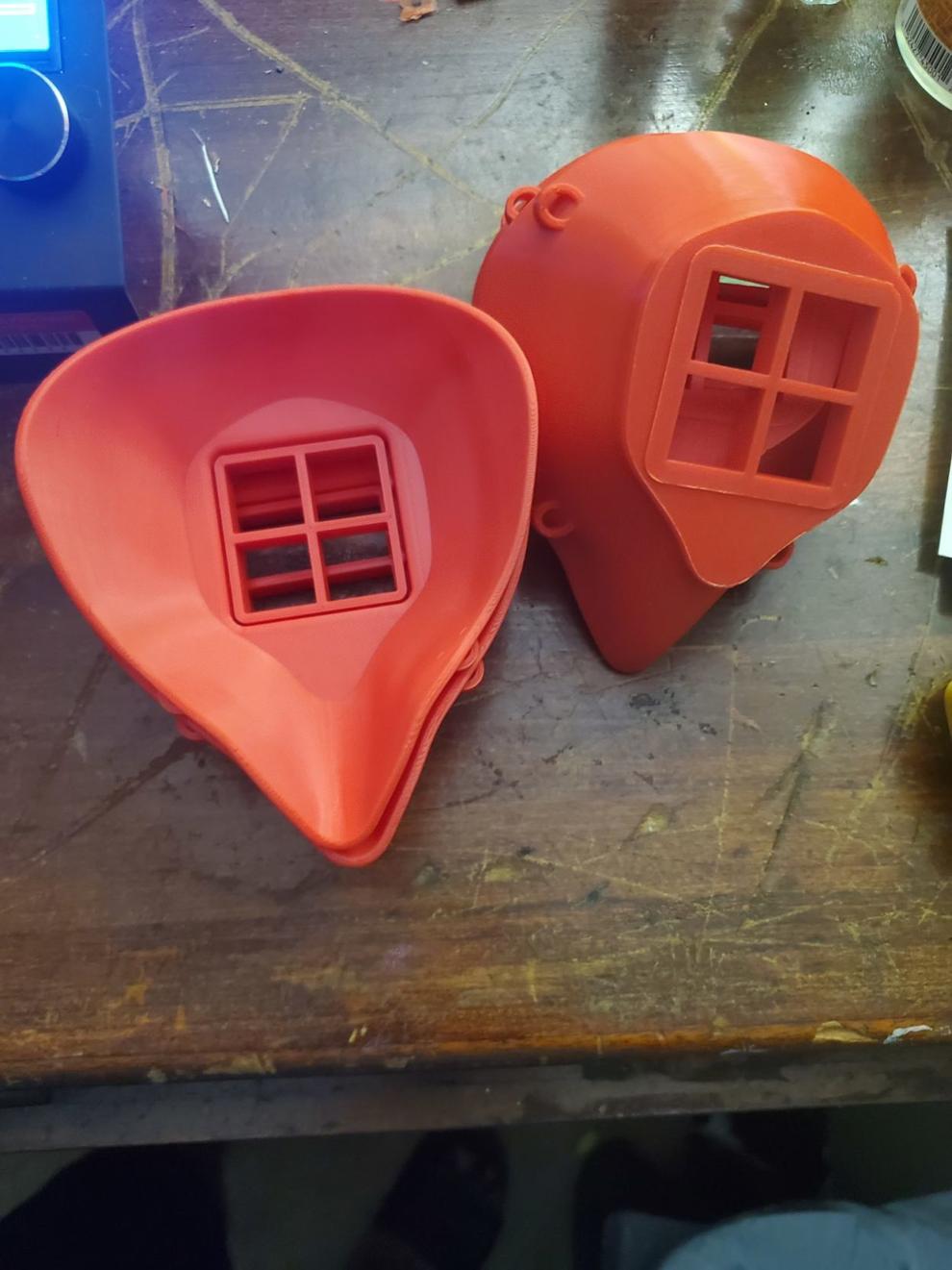 Pemberton said the mask's design has "exploded all over the internet" where it can be downloaded and used as a template for printing. She said after seeing the designs, she and her peers thought it would be cool to craft the masks, which include finding filters, elastics, materials to line the edges of the mask so the wearer's face is sealed.
After identifying students who would be interested in printing masks — the four students are printing masks in their free time and not as part of a class assignment — Poore brought the printers and other necessary materials to each student's home.
"Then Mr. Poore got in contact with us and was like, 'Who's open to having a 3D printer in their house?' basically. And we were all like, 'We definitely want a 3D printer in our house,'" Pemberton said.
Each mask takes about nine hours to print.
Outlining the process for creating a mask, Myers said the first step is downloading an STL — or stereolithography file — which Myers described as a file that depicts a 3D image.
The next step is downloading a "slicer," which Myers said is "a piece of software you use to let the 3D printer know how to actually use the 3D file."
Finally, Myers said you put the 3D file "into the slicer, you slice it and then you send it to the 3D printer and hit 'print.'"
Myers said there are two parts to the mask that need to be printed — a main frame that covers the wearer's face and a printed component that holds the filter.
Using a 3D printer is not so simple as importing a template and then printing, though. Myers said one of his challenges was "bed leveling" or adjusting each corner and "continuously printing new things to see if it's level." Myers said it took him about six tries before his first mask was aligned correctly.
Pemberton said an obstacle she is running into is her printer only having the capacity to print once a day. However, Pemberton said her peers are more than willing to help one another with problem solving. Pemberton said she'll often open her phone to at least five emails from her peers discussing the mask-printing process.
"I just want to say how proud I am of these guys," Poore said. "This is such a good, core team of kids. I mean, Jordan hit the nail on the head, when they have an issue — they just help each other, they jump in and they're like, 'OK, well I know a little about this, let me share that with you.' And they all do it."
Poore said the students also considered printing the frame of a face shield, however he was not able to find the clear plastic necessary for the shield. Pemberton said she and her peers may print shields in the future as there is the option to print the frame then ship it out to another company, which assembles the other necessary pieces.
The students are printing bands that can be used with other masks to make them more adjustable and provide a better fit.
Pemberton said her education throughout the school year has helped her prepare for projects like building masks, as well as coping with COVID-19. She cited her English and language arts classes as teaching her about the necessity of community outreach. Pemberton also is enrolled in carpentry and computer design classes, which she said have helped her problem solve.
"I've been learning about 3D printers, so any issue with my 3D printer or someone else's, I can usually problem solve it with them," Pemberton said.
Pemberton said her science classes have helped understand how the coronavirus spreads and the necessity of hand washing and practices like social distancing.