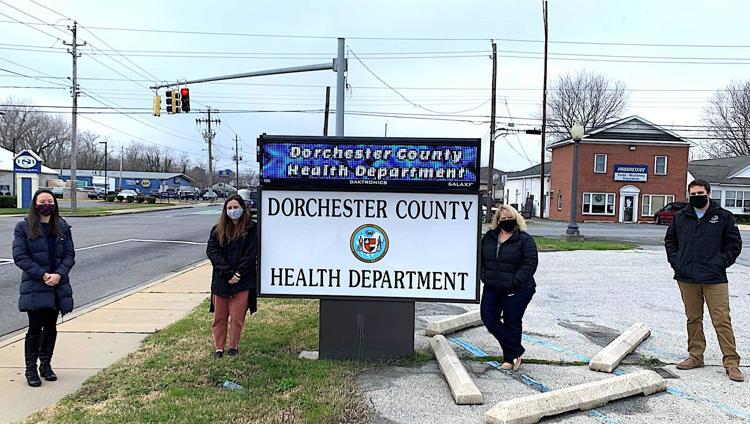 CAMBRIDGE — The COVID-19 Response Team of the Dorchester County Health Department has been recognized as with the state Department of Health's Secretary's Customer Service Spotlight for the month of December for their "outstanding contributions in customer service."
"If you have visited our testing clinic, you know that it takes an entire team. We don't do it for the recognition; we do it because we care about our community. We hope you feel that every time we have the privilege of serving you," said Angela Grove, public information officer with DHS.
A special December 2020 edition of the MDH Secretary's Customer Service Spotlight recognized the entire State of Maryland workforce has been hard at work fighting the coronavirus (COVID-19) pandemic that is affecting constituents across the state, nation and world and those MDH employees for their exemplary service and contributions during the COVID-19 Pandemic specifically COVID-19 Response Team Dorchester County Health Department team members.
Nominated by Mindy Black-Kelly, social work supervisor, Dorchester County Health Department, DCHD was commended for providing readily available COVID-19 testing. Dorchester currently leads the state in percentage of residents tested within a jurisdiction. Although many staff are responsible for carrying out this essential service, special recognition is deserved for the coordinated effort of Lanise Mohn, director of nursing; Brice Strang, program administrator, emergency preparedness; Hannah Mayhew, public health emergency planner; and Angela Grove, public information officer.
The DCHD COVID-19 testing clinics have been running independently two mornings per week since July and include a regular monthly evening clinic and a Saturday clinic. Between 15-20 Health Department staff, from various departments, both English and Spanish speaking, commit to assisting with each of these drive-through clinics. Direct patient care is provided "car-side" in two drive-through lanes, each with COVID-19 educators, registrars and nurses. Additional staff direct traffic, process the registration forms, and organize and prepare the testing samples for pick up by the State lab. Testing at the DCHD does not require an appointment, payment, insurance, or Dorchester County residency.
Additionally, the IT department worked to move registration from a paper and pen process to tablets for better efficiency. Currently during a three-hour clinic DCHD tests between 180-275 people. Consumers are contacted by telephone with results within 2-3 days and can request that results be sent in an email either to them directly or to a physician or employer. Often staff are calling consumers after hours and throughout the weekend as test results come in.
Residents from all over the Eastern Shore flock to DCHD clinics because of the efficiency and ease with which they are conducted. Recently, the DCHD testing clinics have affectionately been called the "Chick-Fil-A" of drive through clinics.
In addition to the regular clinics conducted at the Health Department, additional mobile clinics are conducted as needed and have occurred at all of the county's public schools, community locations both in the city of Cambridge and in rural areas, and at several local businesses such as large food processing plants. While each person who has assisted with testing cannot be named individually, along with this small group, many of them have helped with every clinic and those employees also deserve recognition for the time they have invested to serve our residents.
Not only has the COVID-19 Response Team coordinated outstanding public service, they have taken excellent care of staff assisting with the clinics throughout this pandemic, Black-Kelly wrote. PPE has been provided in abundance and reflective vests are available for safety. During hot weather, there were coolers of cold water, ice pops and snacks, a misting tent and fans. As the weather started to turn cooler, coffee and hot cocoa appeared, as did heaters and cold weather gear. The team also has flares to use to direct traffic and music to keep us going, especially during times when clinic hours are extended to meet community need.
This team has made a concerted effort to support and pull staff together amidst a crisis and in the name of keeping the community safe, according to Black-Kelly, "They deserve an enormous amount of thanks and recognition for their tireless efforts and I have never been more proud to be a part of this amazing Health Department."