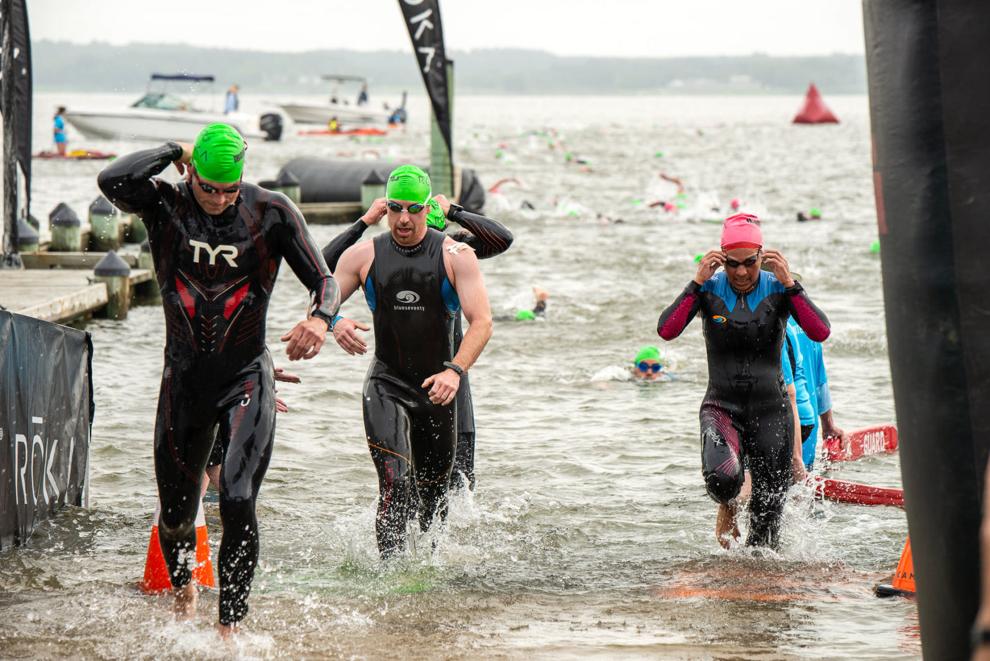 CAMBRIDGE — Eagleman racers completed the 70.3 mile triathlon on a beautiful Sunday in Cambridge and Dorchester County.
Overall race winner Jonathan Staton crossed the finish line in Gerry Boyle Park at Great Marsh in just under four hours with a time of 3:39:39, including a swim time of 30:44, a bike time of 2:08:09 and a run time of 1:15:58.
The next finisher, Spanish triathlete Alejandro Garcia Sanchez, finished at 4:03:59, and the third place was clinched by Conor Bollinger with a total time of 4:07:10.
Bridget Foote secured the fastest time among female triathletes, with a total time of 4:23:36, including a swim time of 28:02, a bike time of 2:24:40 and a run time of 1:25:01.
"Everything went really well," said race director Angie Hengst, "The athletes were excited to be back again."
Hengst said COVID-19 precaution protocols put in place not only did not deter racers and volunteers, but some made the event go "really smoothly" and may be kept.
Measures like preset check in times and in-race measures like releasing three athletes to the swim course every five seconds improved the race.
The 2021 return to the waters of the Choptank River, streets of Cambridge and roads of southern Dorchester also met success with the implementation of a new run course.
Hengst is wrapping up the final details of the Eagleman race before she shifts to preparing for the 140.6 Ironman Maryland race schedule for Sept. 18.
Mike Detmer is a staff writer for the Dorchester Star and Star Democrat based in Maryland. You can reach him at mdetmer@chespub.com.