CAMBRIDGE — Seafood processors, watermen, seafood business owners, and local officials gathered on Monday morning in a crab picking house on Hoopers Island to call for the release of all 64,000 H-2B visas needed for the area's crab picking houses. Six of Dorchester's nine crab picking houses did not receive any of the H-2B visas allocated under the current Department of Homeland Security lottery system.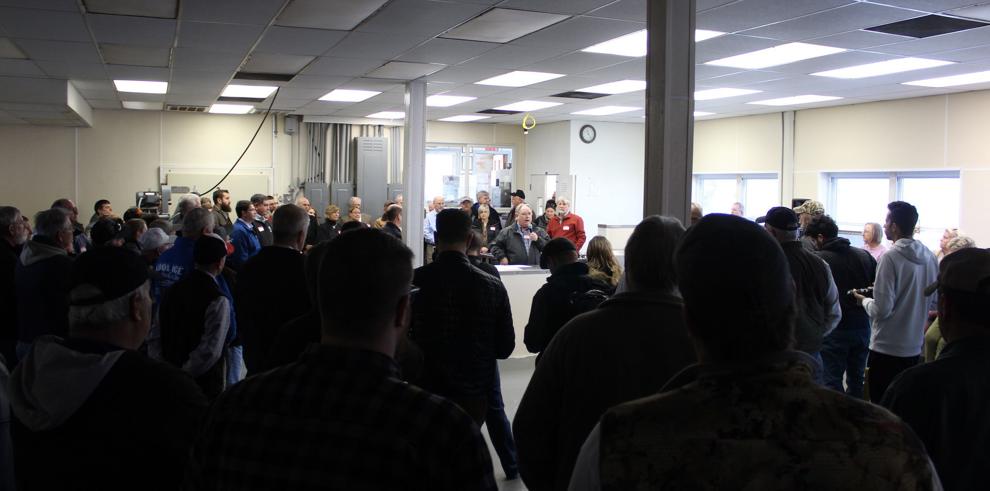 Over 130 people gathered for the meeting in the A.E. Phillips picking room, in a building immediately on the Honga River in the village of Fishing Creek on Upper Hoopers Island.
The problem of temporary worker H-2B visas is two-fold, according to J.M. Clayton owner and Chesapeake Bay Seafood Industries Association President Jack Brooks, who said that more visas need to be released for the upcoming season that starts April 1, and that the system needs a permanent exception to the yearly quota so that the seafood industry in the Chesapeake region and elsewhere can avoid the yearly cycle of uncertainty.
Old Salty's owner and Dorchester County Council President Jay Newcomb said the H-2B visa program has worked in Dorchester since he first used it in 1987. Newcomb said that using Maryland crab meat was key to the success of his restaurant, and he cited specific examples of how the local population has changed and does not have enough seasonal workers to staff all of the picking houses. "It's a good program. It works, it helps the economy," said Newcomb as he urged for the immediate release of the visas.
Maryland Secretary of Agriculture Joseph Bartenfelder talked about a study authorized by his department that estimated that without the full release of the needed H-2B visas, watermen and crabbers could lose income over $12 million, while crab processors could lose over $37 million of potential income. The study predicted that the state would lose more than 900 jobs and take $100-150 million from the state's economy.
Maryland Watermens' Association President Robert Brown criticized the uncertainty of the current H-2B visa system, asking, "How can a seafood packing house have a business plan when it relies on a lottery?"
Seafood processor G.W. Hall's Ryan Hall said a failure to release all the visas would be devastating for picking houses and watermen alike. "It's life or death for us," Hall said, "Without H-2Bs, there's no way I can physically buy their [the watermen's] crabs.
Lindy's Seafood's Aubrey Vincent emphasized that the existing shortage threatened more than just seafood workers. "It's more than just a jobs issue, it's an American community issue," said Vincent. She expressed concern for a future without the solution of a permanent seafood exemption, stating, "A lot of these family businesses are hanging on by a thread."
Dorchester Chamber of Commerce President Bill Christopher said that the seafood exemption should be considered on its own merits of the ongoing seasonal labor shortage. "This should not be swept up into the larger immigration issue," said Christopher.
In addition to several crab picking house operators describing the harm the visa shortage poses to their business, watermen, regional seafood wholesalers and retailers, and restaurant owners agreed that the current shortage of workers in the crab picking houses promised to hurt their businesses as well.